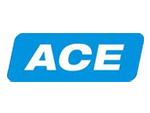 Ace Control Products are supplied by titan Fluid Technologies Ltd. For over 40 years Ace has been acknowledged a world leader in motion control. It was back in the 1960's that the then unique Ace shock absorber was initially designed to serve the Detroit automotive industry. Since then, their world-renowned shock absorbers have grown to some 170 different models. In addition, the Ace motion control range has developed to include safety shock absorbers, rotary dampers, hydraulic dampers, feed controls, industrial gas springs and TUBUS dampers.


Ace was the first manufacturer in its sector to offer a lifetime warranty on all of its products. Ace products are designed and manufactured to ISO 9001 and are guaranteed to be free from defects in materials or workmanship. Ace will repair or replace any of its products determined to have a defect in materials or workmanship at any time for the life of the product.
Ace Industrial Shock Absorbers
In the broadest sense these products act the same as the brakes in your car.
Just like them, they decelerate loads quickly, gently and without any recoil or bounce back. Ace industrial shock absorbers comply with the most demanding quality standards. They are maintenance free, self-contained hydraulic products featuring the most innovative sealing technology, an extremely compact design and unbeatable performance.
Advantages:
Increase production rates
Extend machine life
Reduce construction costs
Reduce maintenance and noise pollution
Sizes available from 6mm dia. Up to 230mm dia.
Ace Safety Shock Absorbers
The name describes this product perfectly. They ensure the safety in emergency stop applications. Safety shock absorbers are maintenance free, self-contained units, the majority of which are equipped with an integrated mechanical stop. They have either an integrated membrane accumulator for volume compensation or you can select to use a compressed gas chamber on some models.
Applications:
Overhead cranes
Conveyors and turntables
Stacker and high bay warehouse cranes
Dockside equipment and bridges
Ace TUBUS Elastomer Profile Buffers
TUBUS - Profile Dampers from ACE are High Performance Damper elements made from a special Co-Polyester Elastomer have a high energy absorbing capacity compared with other materials. The TUBUS series comprises five main types with over 70 individual models. The excellent damping characteristics are achieved as a result of the special elastomer material and the worldwide patented construction design. This enables us to change the characteristic of the Elastomer material so that individual and distinct damping curves are possible.
Applications:
Machine Tools
Automation
Crane Systems
Theme Park Rides
Ace Rotary Dampers
Ace rotary dampers are ideal for controlling rotary motion, bi-directional or one way damping. Adjustable or fixed damping rates from 0.0001 up to 40Nm damping torque are available
Applications
Photocopier Machine Lids
Commercial Vehicles
Buses
Aero Industry
Furniture Industry
Ace Dampers & Ace Feed Controls
These devices provide precise velocity control for critical feed rate applications in the wood, plastic, metal and glass industries.
Applications:
Constant precise feed control
Infinitely adjustable
Controlling lifting and lowering
Stroke lengths up to 800 mm
Double acting or single acting models
Control forces up to 50,000 N