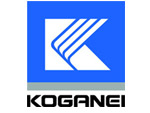 Koganei Products offered by Titan Fluid Technologies Ltd manufacture an extensive range of high quality pneumatic products; their equipment is particularly suited to innovative pick and place applications. The company's attention to detail and market leading initiatives provide simple solutions to complex machine applications. In addition to world leading pneumatic products Koganei offer a comprehensive range of "Robotic" systems, offering high speed, repeatable and accurate methods for applications requiring single, double or indeed 3 axis solutions.


The Koganei pneumatic product range includes;
Koganei Pneumatic Cylinders: Profile cylinders, tie-rod cylinders, guided cylinders, rodless cylinders, swing type cylinders, Z Slider high thrust twin rod linear guided actuators
Koganei Pneumatic Valves: Directional valves, solenoid valves, air pilot valves, manifold valves
Koganei Pneumatic Grippers (Air Hands): Wide choice of single or double acting swing/parallel type air hands, 180º opening, cross roller bearing and linear guide options available.
Koganei Pneumatic Rubber Air Hands: Ideal for handling components where a standard air hand will not suffice, choice of internal or external grip versions
Koganei Pneumatic Non-contact Transporters: Innovative – Handle a component without contact using compressed air. Ideal for transfer of wide range of components e.g. CD, glass, plastics or porous items etc.
Koganei Pneumatic Rotary Index Tables: ARWT Series air operated rotary index table. Choice of 45, 60 or 90º fixed angle steps. Clockwise or anti clockwise movements.
The Koganei Robotic System product range includes;
Koganei Desk Top Robots: Compact A4 size unit. Ideal for dispensing small items such as screw fastenings, soldering, cutting or pick and place palletizing applications. Choice of 2 or 3 axes systems. 3D linear and 2D circular interpolation. ±0.02mm repeatability.
Koganei Denrobo Multi Axis Robot System: Single or dual axis versions available, strokes up to 1metre, payloads up to 10kg. Easy programming via Windows® software.
Koganei Ionisers: Eliminate static electricity with pinpoint accuracy, choice of blow or fan types.