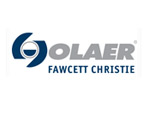 Olaer Fawcett Christie (formerly Fawcett Christie Hydraulics) was first established as a company around 1760. They are now established in more than twenty countries as one of the leading manufacturers of gas-loaded hydraulic accumulators, oil coolers and associated equipment. The Olaer Fawcett Christie product range also includes industrial chillers, filters, liquid separators, pulsation dampers, surge vessels and pressure boosters.


Olaer Fawcett Christie Bladder Accumulators can be supplied to suit a wide range of applications including hydrostatic bearings, lubricating oil supplies, chucking systems on machine tools, safety and emergency braking systems and many more. Each bladder is subjected to a variety of tests to ensure long term usage with low permeability for subsea applications. Material Certificates can be supplied for full traceability and 100% helium testing is available if the specification calls for it.
A two year guarantee is offered as standard on all Olaer Fawcett Christie Bladders.
Olaer Fawcett Christie Diaphragm Accumulators are often used on mobile equipment and other applications where weight and space is a concern.
Olaer Fawcett Christie Pulsation Dampers can provide cost savings to end users of pumping systems by reducing damage to pipe work and instrumentation, whilst also providing a more accurate dispersal of pumped products and improved reliability and accuracy of system instrumentation. Pulsation Dampers are available manufactured in stainless steel or polypropylene with volume sizes of 0.1 litre to 2 litres. Polypropylene models are limited to working pressures of up to 10 Bar.
Olaer Fawcett Christie Air Blast Coolers are designed for use in a wide variety of environments, applications and industries. The air blast coolers are available with AC, DC or hydraulic motors.
Olaer Fawcett Christie Water Oil Coolers are used on stationary hydraulic and lubricating systems to optimize the oil temperature. The complete cooler range includes heat exchanges, water oil coolers, industrial chillers, cooling and filter systems, oil filters and circulating pumps.
Water oil coolers are especially suitable in environments where water is easily accessible. Brazed plate and bolted plate heat exchangers are available as well as fin and tube, and shell and tube heat exchangers.
Olaer Fawcett Christie supply Mahle Filtration products in three key product ranges; hydraulic filtration, automatic filtration, liquid/liquid separation.
The Mahle hydraulic filter range comprises: Suction Filters, Spin-on cartridges, Air Cleaners, Pressure Filters, Coalescent-Filters, Oil Mist Collectors, Duplex Filters, Mobile Filter Equipment, Oil mist collector units, Bypass Filters, Filter Elements, Return-line Filters, Contamination Indicators, Breather Filters, Turbidity sensor PIT 400
The Mahle automatic filter range includes; Vario Automatic Filter Series, Automatic Metal Edge Filters, Automatic Filters with Internal Pressure Segment Cleaning, Automatic Filters with External Pressure Segment Cleaning, Automatic Filters with External Pressure Segment Cleaning with continuous Filtrate Flow, Automatic Filters with Scrapers and External Pressure Segment Cleaning, Simplex and change-over sieve basket filters, Duplex Basket Filters, Backwash Filters.
Mahle has recently acquired Mahle - AKO who offer fully automatic reverse flow filters ideal for large flow rates up to 3000 cubic metres per hour.
Mahle Liquid/Liquid Separation Filters are used in the following applications; Oil Treatment, Fuel Treatment, Bilge Water, Process Water, Ballast Water, Cooling Water, Membrane Filtration (Nano, Ultra, Micro and Reverse Osmosis)