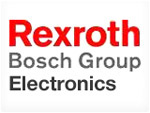 Bosch Rexroth the world's foremost manufacturer of hydraulic and pneumatic equipment offer an extensive range of Hydraulic Electronics products.


The Bosch Rexroth Electronics (Hydraulics) range includes the following.
Bosch Rexroth Amplifiers: Analogue or digital amplifiers in euro card format as well as analogue amplifiers in modular design or plug-in version. To suit proportional, high-response and servo valves.
Bosch Rexroth Setpoint Preparation: Setpoint preparation for generating, linking and normalizing command value signals in euro card format, modular design or plug-in version. 
Bosch Rexroth Control Electronics: Analogue controllers, freely configurable controller cards, digital positioning cards to digital axis control and digital multi-axis NC control.
Bosch Rexroth Sensors and Signal Controllers: Pressure transducers, electronic pressure switches, programmable pressure switches, piston type pressure switches and electronic signal encoders.
Bosch Rexroth Electro-Hydraulic Systems: Closed-loop control systems with axial piston pumps and electronics for pressure and swivel angle control, with optional power limitation.
Bosch Rexroth Electronics (Hydraulics) accessories: Racks, card holders, power supplies, stabilizing units, test cases and test boxes for proportional, hi-response and servo valves.