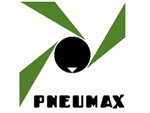 Pneumax Pneumatics offered by Titan Fluid Technologies Ltd incorporate a wide range of readily available pneumatic components which include;


Pneumax Pneumatic Mechanical & Manual Valves: miniature pneumatic valves, plastic bodied pneumatic valves, pneumatic poppet valves, pneumatic pressure switches, pneumatic impulse generators, pneumatic impulse valves, pneumatic two-hand safety starts, pneumatic timers.
Pneumax Pneumatic Air Pilot and Solenoid Valves: pneumatic air pilot operated valves, pneumatic direct operating solenoid valves, solenoid directional valves, pneumatic air pilot and solenoid operated poppet valves, pneumatic distributors and electro-distributors.
Pneumax Pneumatic Air Service Units: 1/8" to 1.1/2" filters, pressure regulators, lubricators, FRL's, proportional regulators and pressure boosters.
Pneumax Pneumatic Cylinders: Pneumatic cylinders to CNOMO/ISO/VDMA standards, pneumatic micro cylinders, heavy duty pneumatic tie-rod cylinders, pneumatic profile cylinders, pneumatic twin rod cylinders, pneumatic rotary actuators, pneumatic non-rotating cylinders, pneumatic short stroke compact cylinders, Euro Series pneumatic compact cylinders, pneumatic rodless cylinders, cylinder sensors, brackets and cylinder accessories.
Pneumax Manipulation Products: Pneumatic guided compact cylinders, pneumatic push/pull twin rod slide unit, pneumatic grippers, pneumatic rotary actuators.