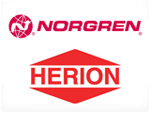 The Norgren product range also includes the well known brands of Herion, Buschjost, FAS, KIP, Kleohn and Webber. All of whom are integrated under the Norgren banner to offer extensive solutions for the handling of air, water, oil and other fluids. The product range includes process and control valves, cylinders, airline preparation equipment, pressure switches and vacuum products.


The Norgren product range includes:
Norgren Pneumatic Cylinders: Roundline cylinders, ISO/VDMA cylinders, compact cylinders, rodless Lintra cylinders, slide and guided cylinders, stainless steel cylinders, air-bellows actuators, cylinder accessories
Norgren Pneumatic Valves: Solenoid directional valves, inline valves and manifolds, manual and mechanical valves, process/Namur valves, proportional control valves, flow control valves, safety valves
Norgren Pneumatic Airline Products: Combined FRL's, filter regulators, filters, lubricators, pressure regulators, pressure relief valves, soft start dump valves, stainless steel standard and precision airline equipment
Norgren Pneumatic Pressure Switches: Standard pressure switches, electro-mechanical pressure switches, electronic pressure switches
Norgren Vacuum: Vacuum pumps, vacuum cups, vacuum bellows, vacuum accessories
Herion Pneumatic Products: Cylinders, directional valves, solenoid valves,
Buschjost Products: indirect solenoid actuated diaphragm valves, pilot valves for pressure activated valves, designed for aggressive gases
Webber Products: Solenoid actuated poppet valves for compressed air
KIP Products: Solenoid valves, plastic bodied valves, brass bodied valves, stainless steel bodied valves, diaphragm valves, piston valves, custom manifold valve assemblies, and liquid level control switches.