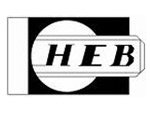 The HEB Hydraulik range of hydraulic cylinder products is offered by Titan Fluid Technologies Ltd. HEB Hydraulik has been manufacturing standard and custom built hydraulic cylinders for more than 30 years. HEB standard hydraulic cylinders and special cylinders are all custom built to suit the individual requirements of the customer.


The HEB Hydraulik Cylinder range includes;
HEB Round Hydraulic Cylinders: Cylinder range for 100, 140, 160, 250 and 350 bar operating pressure, round design, welded-screw construction cylinders, 16mm -160 mm in diameter, strokes from 0.1-3000 mm. Many special variations can be supplied, e.g. reverse cylinders, multiple position cylinders, tandem cylinders or models with anti-twist devices.
HEB Block Hydraulic Cylinders: Block cylinders, up to 400 bar operating pressure, 16 -160mm in diameter, standard strokes or custom-built strokes to suit customer requirements.
HEB Flanged Hydraulic Cylinders: Flanged cylinder range, round design, 250 bar operating pressure, 32mm –100mm diameter.
HEB Screw-In Hydraulic Cylinders: Screw-in cylinder range, externally threaded, 200bar operating pressure 18mm - 50mm diameter.
HEB Standard Hydraulic Cylinders: Hydraulic cylinders to ISO 6020/1-CETOP R58H – 160 bar operating pressure, hydraulic cylinders to DIN 24554 – 160 bar operating pressure, Hydraulic cylinders to DIN 24333 – CETOP RP73H – 250 bar operating pressure. 25mm - 200mm standard diameter. Custom bores and strokes available.
HEB Hydraulic Locking Cylinders: Hydraulic cylinders with end-locking systems allowing the piston rod to be fixed precisely in position independent of operating pressure. 32mm – 125mm diameter, 250 bar operating pressure, externally threaded body versions available.
HEB Hydraulic Stroke Measuring Cylinders: The HEB WMZ 161 range of hydraulic cylinders has high-precision integral stroke measurement for positioning, control, and regulating operations. 40mm -160mm diameter, 160 bar operating pressure.
HEB Hydraulic Rotary Drive(Actuator) Units: Low pressure rotary drive actuators, 25mm-100mm diameter, operating pressure 50bar, maximum stroke 720°, sensing of end position: as DA50NI
HEB Hydraulic Cylinder Mounting parts: Rod end clevis, ball eye rod ends, front and rear fork clevis mountings, front and rear flanges, centre trunnion mountings.